Kitchen Capers
(707) 462-5747
Email here
Anecdotes from Recipe Testers | Kitchen Capers Catering: Food Photos & Reviews

Cookbook Reviews & Letters
---

Just wanted to say thanks! Your book was a perfect Valentine gift, just as you suggested! My partner and I made the corn fritters and steamed greens tonight and it worked perfectly. Everything was delicious. The sweet chili sauce was the wild card for us - we'd never made anything like it and were slightly suspicious at first but it was so delicious. Can't wait to try more of the recipes!

Marianne - Oakland

---

This is absolutely WONDERFUL!!!


What a beautiful work! I will indeed order your cookbook and am forwarding your email to some others who love food and know the healing power of good cooking. Your concept here is brilliant—you bring back the connectedness that good food and the process of cooking offers. This is how it should be. My heart exploded after just glancing at your website.

My best to you, Much love, Jan


---


Thank you Sulin for creating the 2 Hearts and 4 Hands Cooking experience. Chris and I had one of the best evenings of our 25 year marriage last nite. We made the Chicken Subella, which was superb, with brown basmati rice, your carrot salad and a divine fresh apricot tart. The interplay was the wonder of it all, as we consulted, collaborated and created the meal together. Rather than she making one dish and I the others, we cooked together in a leisurely way, enjoying the tastes, smells, sounds and indescribable pleasure of sharing the elegant meal we created together, eaten by candle light.

Your instructions were most helpful, even for experienced cooks, such as we are. It was a full evening's activity as we shopped, chopped, cooked and played together. Afterward, we went for a walk in the moonlight counting stars and our blessings for our life, friends and well nourished soul connection.

Ed Bauman, M.Ed., Ph.D.
Director of Bauman College: Holistic Nutrition and Culinary Arts

More from Ed Bauman:

* The 2 x 4 cooking experience is a relationship home run. The perfect way to stay home and eat out of this world food with ambiance and style.


* A 5 star evening of sensual and culinary delight. A perfect way to slow down, open up and be with the one you love.

* A revelation. What a difference it makes to connect with our partner and our meal making and stay connected from start to finish. Reminds us to not take eating for granted and be satisfied with take out, heat and eat food when we can make deeply nourishing food, from scratch, ourselves and create memorable moments in the process.

*A culinary meditation for two. Perfectly conceived, easy to follow. Amazing fun and deeply satisfying. You have to try this to see what you have been missing. A fabulous birthday, holiday, getting to know you bonding experience.
---
As an experienced cook I often make changes and substitutions in recipes… which were easily done using this guide. The book is perfectly laid out for beginning cooks as well. My friend and I often prepare meals together where there is a division of labor. She makes one dish and I the other. Rarely do we create one dish jointly. Getting out of the way of routine truly revived our enjoyment of each other's company.

Liz Perkins, caterer and lifetime cook

---

With stress levels going through the roof, our most intimate relationships often suffer the most. As a psychotherapist for more than 40 years, I highly recommend Sulin's wonderful book as a way to create more love and intimacy with those we care most about. We all love food and Two Hearts-Four Hands shows us how to make food and share food as an act of love. I must admit, as a guy I was a bit intimidated at first. Cooking definitely is not my thing. But Sulin's guidance allowed me to have fun with my wife in a whole new way and enjoy a wonderful meal together as our reward.

If you have someone in your life you'd like to get to know better and you like to eat, this is the book for you.

Jed Diamond, Ph.D, author
The Irritable Male Syndrome and Surviving Male Menopause
---
It was a wonderful way to spend time together as a family. It also made us aware of how rarely we allow the time and space to actually cook a meal together. I became aware of the way I tend to be a little stubborn in the kitchen and Bodhi became more aware of how much effort goes into a putting a meal on the table each night. It was a learning and a bonding experience we both appreciated.

Lindsey, Student & Massage Therapist
---
One of the ways I've realized this book is such a good idea is because it takes the pressure off me. If Geoff cooks something alone or with me, there are so many instructions about basics I need to relay to him, he moves slowly, and I am easily frustrated.

Because you've done such a good job in defining tasks for Cook 1 and Cook 2, your book invited cooperation and a kind of side by side play that made the whole experience more enjoyable. In fact we decided to do regular Tuesday night cooking dates and we went through every recipe in your book. It was fun, romantic and we actually loved all the menus.

I tried cooking some of the meals again, alone. They were good, but not as good. Was the adventure missing? The love, laughter? Don't know, but it's interested to observe. We joined your Cooking Together Club and look forward to receiving recipes to add to our repertoire.

By the way, since we had such good experiences, for the holidays we decided to give all our relatives and friends a copy. For Christmas I gave Geoff his own cutting board and knives and we even renovated our kitchen to make the flow of cooking together easier.

Congratulations.

Lisa Bourgea, Registered Nurse

---
Like a Fairy Tale
A young couple from Northern California planned to become engaged, yet had a serious setback in their relationship. Having previously made a commitment to do this cooking test for me, they agreed to come together despite their separation.

As a result of their experience during their cooking date making Samosas, they decided to get married. As they tell it, they were discussing their relationship while rolling out dough, noticing how well they worked together. Enjoying the harmony, and delighting in the successful outcome of their potato pocket creations, they reconciled during the baking.

The wedding was planned as they dined. I can't say I know what they had for dessert, but the last I heard, they were considering catering their own wedding. Although this good fortune is not guaranteed for all couples, and I don't recommend catering your own wedding, this experience illustrates the opportunity that cooking together can offer your relationship.
Top of Page
---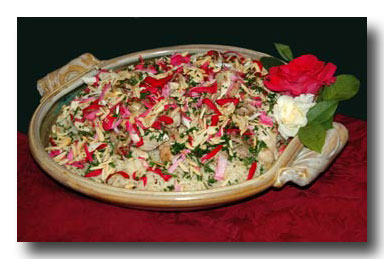 Rose Petal Chicken
Recipe from Two Hearts Four Hands

Vegetable Brochettes
Catering Reviews
"You're the tops! What a job it was eating your food; I looked forward to every meal-and felt nourished on every level. Please come to my house and move in."

Susan Sparrow, Writing Workshop Facilitator, Mendocino County

---

"Thank you for the extraordinary job you did for our yoga retreat. Everyone still talks about our meals together and wonders, when they sign up for the next retreat, if it will be for the practice or the Velvet Yam Soup."

Barbara V, Yoga teacher, Bay Area

---

"I didn't think it could be done, but you found a way to top the yam soup and corn bread—the Tempeh Subella was awesome…the daily aromas from the kitchen brought me home.

Eric K, Meditation Teacher, Marin County

---

"Thank you is an understatement. The job you did for our wedding was done with professional excellence and talented artistry. The buffet looked, smelled and tasted like a work of art for which we will always be grateful."

Newlyweds, Sonoma County

---

"The lunches were phenomenal—a whole new enchilada. Many thanks. I worship the vegetables you cook with. May the Buddha bless you and your cookware. The food was so abundant and seasoned with lovingkindness..and it also helped me let go of my food issues."

"Julia Child's Untalented Daughter", Bay Area

---

"Just let us know if you need a recommendation. We loved your food, your presentation and it was easy working with you.

Gary Nix and John Bogner, Mendocino County Realtors

---

"Many Blessings! You provided the most amazing fuel for this most excellent spiritual adventure. May you share in the joy I have received from eating it."

Larry Y, Meditation student, Marin

County
---
Anecdotes from Recipe Testers | Kitchen Capers Catering: Food Photos & Reviews